Terms and Options
Not only does a trailer from McGill Manufacturing look good, it is lightweight and built solid. The fiberglass body is mounted on a sturdy steel frame with a torsion axle for a smoother ride. Priced at $3,495.00, our Roadster Trailers are delivered in a gel coat finish with basic 14 inch wheels and tires. Each one has safety chains and a coupler for a 2 inch ball. The hatch cover has a keyed lock to protect your property. This makes up the basic trailer kit that allows you to quickly finish out the trailer with lights and paint to match your ride.
Once you decide to purchase, we need to work together to determine the delivery method and estimated shipping schedule. Trailer build lead times vary depending on the number of cars and trailers in production when you order. You have the option of going to our build facility in southwest Missouri to pickup your trailer when it's ready or having it shipped to you.
If you choose to have your trailer shipped to you, we'll get a freight quote based on where you live. We use vehicle transport companies that specialize in trailers whenever possible and the rate you pay is roughly 50 cents a mile.
Your total purchase price is then, the cost of the trailer plus any shipping fees. State sales tax varies from place to place and is your responsibility to pay your local taxing authority, when you license the trailer. A Manufacturers Statement of Origin is supplied for each trailer and a stamped metal identification plate is attached to the chassis with the matching "MSO" number. Most people register their trailer as home made since it is basically a kit.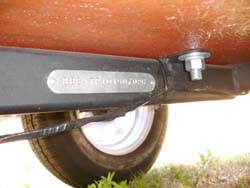 View Larger Image
We require a non-refundable deposit to place a build order that can be paid by check or credit card. When we place the build order we'll notify you of the estimated ship date. The unpaid balance is due before delivery.
One option we recommend is to install 4 flush mount "D-rings". We found a good one you can order from Speedway Motors, part number 91089140, for about $3.00 each. These can be installed by simply bolting them through the floor of the trailer with a backing plate ( NOT INCLUDED ) on the underside. It's easy enough for most people to do themselves in about an hour but we'll do it for you for a small fee.
Additional finish options are available as noted below.
The Roadster Trailer from McGill Manufacturing

Priced at $3,495.00, our Roadster Trailers are delivered in a gel coat finish with basic 14 inch wheels and tires. Each one has safety chains and a coupler for a 2 inch ball. The hatch cover has a keyed lock to protect your property.

This makes up the basic trailer kit that allows you to quickly finish out the trailer with lights and paint to match your ride.

Overall Length

99 inches

Box Length

68 inches

Overall Width

55 inches

Widest Box Width

45 inches

Between Wheelwells

33 inches

Overall Height

42 inches

Tallest Box Height

22 inches

Weight

approx 450 lbs

Tongue Weight

75

Default Bolt Pattern ( Ford )

5 on 4 1/2

Chevy Bolt Pattern - Optional add $125

5 on 4 3/4

ADDITIONAL OPTIONS

Solid paint one color

$1850.00

Teardrop tail lights (wired & installed)

$225.00

Carpet floor and both sides

$795.00

Carpet on floor only

$475.00

Carpet on both sides only

$475.00

Custom tubular bumper (painted)

$295.00