McGill Manufacturing has over 20 years of custom street rod building experience. We have either fully or partially built over 4,000 classics! Building all those cars you learn a lot about what it takes to make a classic street rod a truly quality vehicle.
While developing The Roadster for production, we looked at the issues other trailers have and taken a hands on approach to understanding and correcting them in our product. From the quality and finish of the gel coat to the components and fit and finish, I've made sure we do it right.
The Roadster Trailer is an affordable fiberglass trailers designed to compliment classic cars from the 1930's to the present. The common issue with street rods, hot rods and sports cars is a lack of cargo room. Our Roadster has the flared fenders and rear pan resembling the styling common to the 1930's and a low profile suitable for classic sports cars.
The trailers provide additional cargo room in a lightweight body mounted on a sturdy steel frame with a torsion axle. Our trailers are easy to tow and have plenty of room for luggage, coolers, chairs, tools... whatever you need to make traveling in your classic car more comfortable.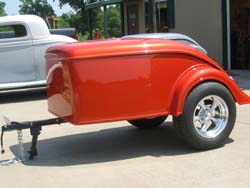 View Larger Image
The trailers are delivered in gel coat finish with basic tires and wheels.
We invite you to contact us about a trailer for your special ride.