Backspacing Definition
Backspacing is the distance from the inside lip of the wheel to the surface that bolts up to the axle. See Backspacing Illustration.

Standard Backspacing
The Roadster ships with basic bias ply trailer wheels which most customers replace to match their car. A wheel with a 3 1/2 inch backspace will generally fit nicely inside the fenders of the Roadster.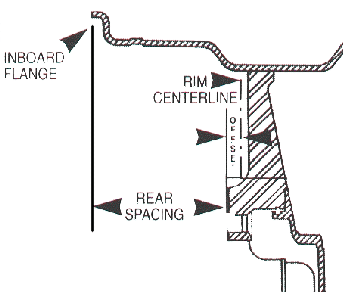 The easiest way to measure backspace is to lay the wheel face down onto the ground so the backside of the wheel is facing up. Take a straight edge and lay it diagonally across the inboard flange of the wheel. Take a tape measure and measure the distance from where the straight edge contacts the inboard flange to the hub mounting pad of the wheel. This measurement is backspace.
Caution: Reduced backspacing increases the load on bearings and may put the outer edge of your tires in contact with the outside of the fender.